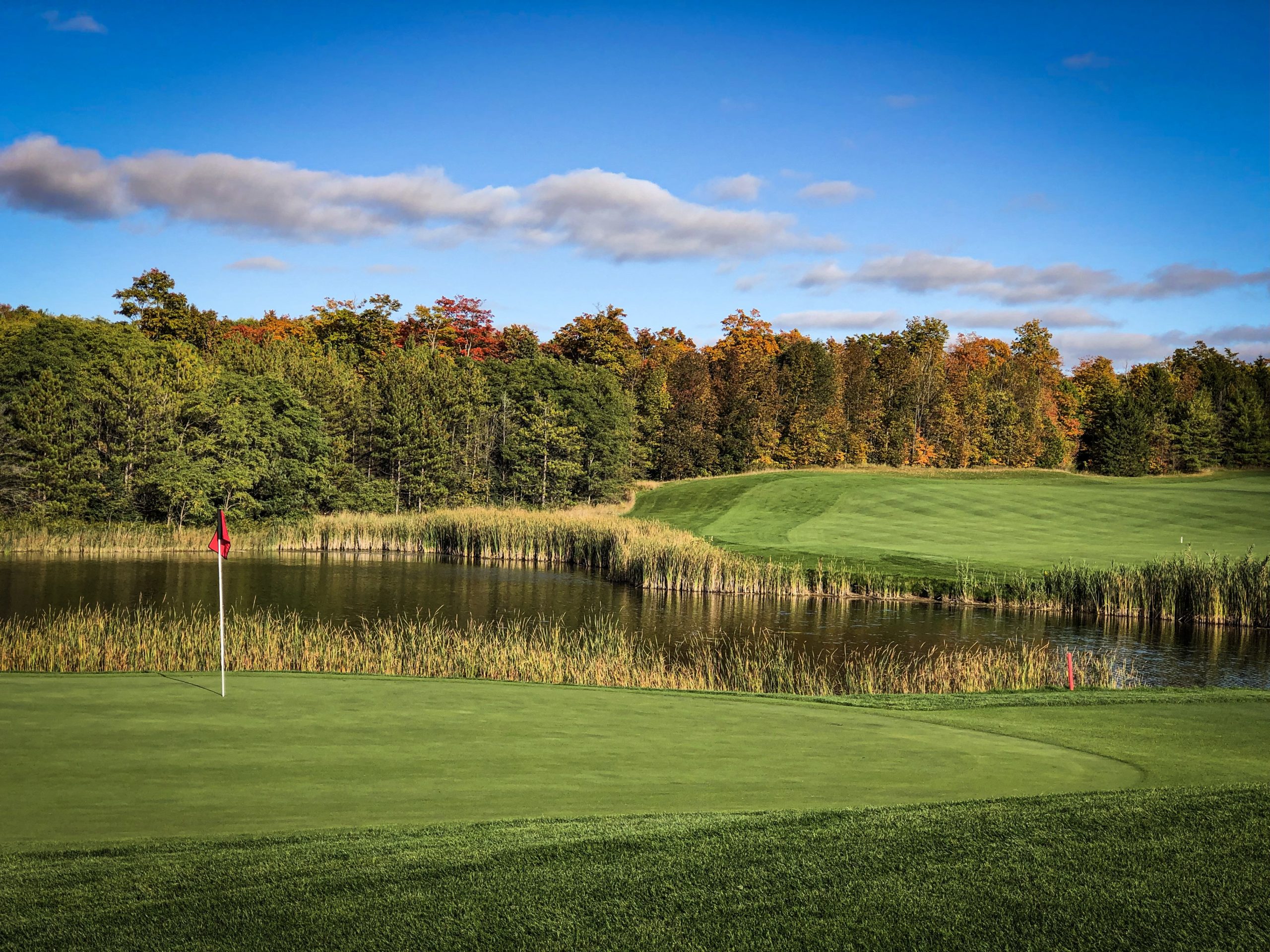 The GTA's 6 Best Public Golf Courses
No matter how you feel about sport's favourite four letter word, there's little doubt that the game of golf is alive and well in Southern Ontario. For those keeping score, golf courses will be allowed to open this Saturday as part of an initial stage to ease the restrictions placed on businesses since March 23rd. Of course, there will be guidelines imposed to maximize physical distancing, so be sure to call ahead to book your time and discuss course protocols with the operator.
Now, while we can't help you with your handicap, we are happy to point you to some of our favourite public courses, guaranteed to provide a great day out with friends and family. Each selection delivers on the promise of natural beauty and a strategically challenging golf experience. Whether you prefer links, forests, wetlands, or a rocky terrain, you will find it here. So, have a great round, no sandbagging, and try not to dwell on the mistakes. After all, as the late, great Ben Hogan once said, "the most important shot in golf is the next one."
TPC Toronto at Osprey Valley – www.ospreyvalley.com
Caledon, Ontario
Osprey Valley is a one-of-a-kind destination just north of Toronto, featuring three distinctive courses designed by Ontario Golf Hall of Fame architect Doug Carrick. All three are ranked in SCOREGolf's Top 100 Courses in Canada, and in 2018, they became the first in the country to join the prestigious TPC Network. Of note is the Heathlands course, purported to be the first links style course to built in Ontario. Although inland, the course manages to effectively emulate traditional Scottish links with its rolling dunes covered with fescue grasses and pot bunkers. Like many courses in Scotland, Heathlands is built between a road line and a rail line. The course's tight, undulating fairways make it the most challenging track at Osprey Valley.
Angus Glen – www.angusglen.com
Markham, Ontario
Golf at the Angus Glen Golf Club offers beauty, challenge, first-class service and variety. With two 18-hole public golf courses, Angus Glen is the only local club to have hosted a major PGA event on all of its courses. So, each time you play Angus Glen, you are walking the same fairways that the world's best golfers have competed on. The South Course, which hosted the 2002 Canadian Open (when John Rollins defeated Justin Leonard and Neal Lancaster in an exciting sudden death playoff), boasts the club's most challenging hole. The Par 4, Hole 1, with its heavily guarded green requires a precise approach. Take it from those who have played…if you're able to begin your day with a par, it's a very good start.
Eagles Nest – www.eaglesnestgolf.com
Maple, Ontario
An exquisite balance of nature and design, this spectacular award-winning layout, offers a truly unique links style golf experience. Add in a little rain, and it will be the closest you'll come to the British Open this side of the Atlantic. Once you've teed off, you'll need to rely on your imagination, creative shot making, and a little luck to help navigate this sea of rolling fairways. Designed by Doug Carrick and built on an old gravel quarry, every round is an adventure as golfers think their way through tight fairways, giant, sculpted dunes and golden fescue. The 18th 'Home' hole is worth the wait, with a demanding green that slopes severely to the right side into the waiting lake below.
Silver Lakes Golf & Country Club – www.silverlakesgolf.com
East Gwillimbury, Ontario
Rated one of the top courses in the GTA by SCOREGolf magazine & Golf Advisor, Silver Lakes is a four-star, 7100 yard, par 72 championship golf course, carved from mature forest and rolling countryside around the meandering Holland River. Established in 1993 and designed by R. F. Moote, its manicured greens and bent-grass fairways are ideal for golfers of all levels. As well, Silver Lakes is one of only a few courses offering an Aqua Range, found in a seven-acre facility that combines great training with a unique golf experience. The outstanding practice facilities include two putting greens, chipping green and practice bunkers. Once playing, you'll soon discover that the neighbouring wetlands are a big part of the course. Water and wetlands come into play on 12 of the holes, making Silver Lakes as beautiful as it is demanding.
Muskoka Bay – www.muskokabayresort.com
Gravenhurst, Ontario
Doug Carrick took pockets of untapped beauty, mammoth rock ridges, and wetlands to create a breathtaking golf course with dramatic elevation changes and serene vistas. The result is an award-winning combination of playability, magnificence and challenge, with a finish that is one of the strongest in the country. In fact, ScoreGolf's most recent bi-annual survey lists Muskoka Bay as the 16th best course in Canada, and the best public course in Ontario, highlighting what it calls a "a near-perfect front nine." And, for when the round's over, high on a scenic ridge sits Muskoka Bay Resort's crowning jewel – the incredible 17,000 square foot Clifftop Clubhouse, designed by renowned architect Richard Wengle.
Copper Creek – www.coppercreek.ca
Kleinburg, Ontario
Imagine a golf course so stunning that every time you step up to a tee, you pause to take in the surroundings. One visit to Copper Creek brings to mind the elemental grandeur of a Group of Seven painting, articulating over acres of rolling hills, meandering rivers and lush forests. Designed by Doug Carrick, much of the course winds through a wooded valley. Of note, the 490 yard, par 5, 10th hole is not for the faint of heart, with a plummeting tee shot and treacherous water hazard waiting along the left.